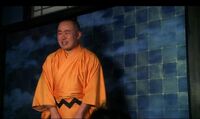 Charlie Brown is a character in Kill Bill: Vol. 1. He is a timid staff member of the House of Blue Leaves and served O-Ren Ishii and her associates. He is terrified of them and is forced to comply with their erratic demands, as the proprietor of the House warned him that crossing the line will suffer the fate of Boss Tanaka.
He is given the nickname "Charlie Brown" due to his resemblance to the Peanuts character.
Ad blocker interference detected!
Wikia is a free-to-use site that makes money from advertising. We have a modified experience for viewers using ad blockers

Wikia is not accessible if you've made further modifications. Remove the custom ad blocker rule(s) and the page will load as expected.