The "Pussy Wagon" is a bright yellow Chevrolet Silverado SS seen in Miramax's Kill Bill: Vol. 1 and originally belonging to Buck. The truck is now in the possession of writer/director Quentin Tarantino and he provided it to "Lady Gaga" for use in the 2010 "Telephone" music video (shown below) shot in similar exploitation-film style.
In the film
Edit
After Beatrix Kiddo wakes from her coma and has a flashback of Buck raping her and "renting" her out, he becomes the second victim on her bloody path to Bill. In his pocket she finds his keys complete with custom Pussy Wagon nameplate, something which visibly disgusts her. The truck is the Bride's first mode of transportation as she sets out to exact certain vengeance. It is seen - with Beatrix Kiddo at the wheel - in front of Vernita Green's house before, and after their encounter, but never again in either Kill Bill: Vol. 1 or Kill Bill: Vol. 2. In the final chapter of Vol. 2, the truck is mentioned one final time when Beatrix remarks "my Pussy Wagon died."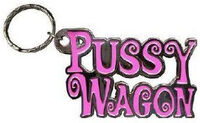 Ad blocker interference detected!
Wikia is a free-to-use site that makes money from advertising. We have a modified experience for viewers using ad blockers

Wikia is not accessible if you've made further modifications. Remove the custom ad blocker rule(s) and the page will load as expected.