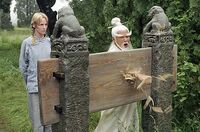 Three inch punch is a technique taught to Beatrix Kiddo by Pai Mei during her training. It is a skill that generates explosive force while using only the travel distance of one's extended fingers (usually about three inches). Once mastered, the user can punch through solid wood without wind up, chambering, or telegraphing.
Ad blocker interference detected!
Wikia is a free-to-use site that makes money from advertising. We have a modified experience for viewers using ad blockers

Wikia is not accessible if you've made further modifications. Remove the custom ad blocker rule(s) and the page will load as expected.