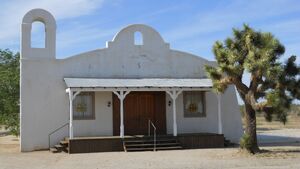 The Two Pines chapel was the church where Beatrix Kiddo and Tommy Plympton had their wedding rehearsal, and where the Massacre at Two Pines occurred.
The filming location used is a Church located in the Los Angeles County portion of the Mojave Desert in Hi Vista, a community east of Lancaster, California. It is only called Two Pines Church in the movie. In real life, it is called the Calvary Baptist Church or the Sanctuary Adventist Church. The address is: 19809 East Avenue G, Hi Vista, CA. 93535. Phone: 661-727-3794.
Ad blocker interference detected!
Wikia is a free-to-use site that makes money from advertising. We have a modified experience for viewers using ad blockers

Wikia is not accessible if you've made further modifications. Remove the custom ad blocker rule(s) and the page will load as expected.